Converters and suppliers are seeking COVID-19 information relating to our essential industry.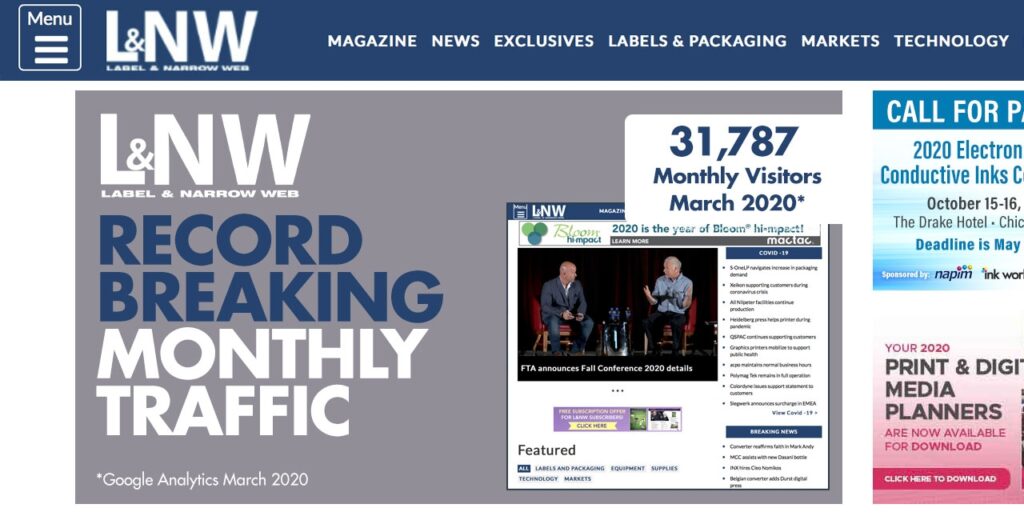 As COVID-19 (coronavirus) continues to spread throughout the world, L&NW is dedicated to providing as much information as possible on our industry. During these times, the industry has lived up to its "essential business" standing. From suppliers to converters, the entire supply chain has gone to great lengths to ensure that these important products keep reaching the shelves–all while protecting employees, customers and consumers.
The influx of breaking news and supplier updates has led to increased page views, visitors, and interactions on social media. These updates can be found on our microsite. We are always continually posting event details, including cancellations, postponements and new dates, as well.
L&NW is also striving to provide the voice of the industry, through feature stories and webinars. We will host a webinar in late April to detail how the supply chain has been affected and the measures currently taking place in these facilities.
Given these updates, L&NW saw a record 20,685* unique visitors—up 20.7% over the same time last year—proving that respected trade media continues to be a source of industry knowledge and community. All indicators show that the trend is expected to continue in the future.
The number of sessions/visitors to www.labelandnarrowweb.com also rose by 16.5% to 31,787.
Essential business
During these unprecedented times, the label and packaging industry remains a vital resource for the consumer market. As consumers flock to stores to buy food, pharmaceuticals, nutraceuticals, health care products, and countless others, our industry answers the call by showing up to work every day to ensure these needs are met. Label & Narrow Web is proud to serve the industry. Stay safe and be well.
For more info on opportunities to get your message across, please contact Kathleen Scully, publisher.
*Google Analytics March 2020 compared to March 2019