COVID-19 Industry Monitor propels ContractPharma.com to record breaking web traffic in March 2020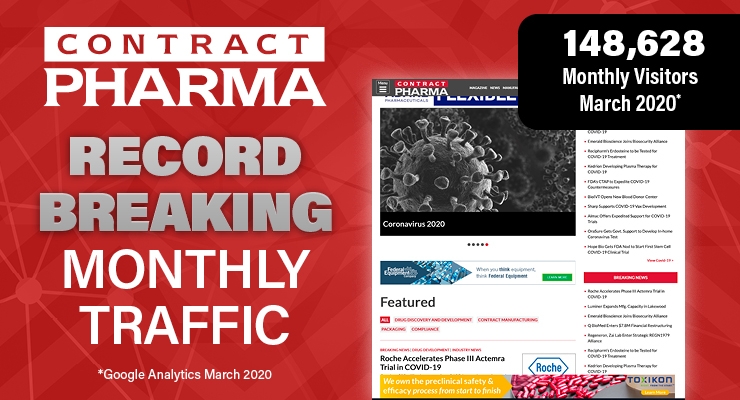 The past month has seen all of our lives upended in unprecedented ways as the coronavirus continues to make its impact felt. Stakeholders across the Pharma and Biopharma supply chain are on the front lines of the fight against COVID-19 as industry races to develop a vaccine.
To do our part and provide readers with continuous breaking news coverage we've recently added the COVID-19 Industry Monitor microsite to ContractPharma.com and we are also sending out COVID-19 Breaking News Email Alerts every Monday throughout this pandemic. In addition, Expert Opinion pieces, Online Exclusives, and Feature articles are being posted weekly, covering the impact of the coronavirus on drug manufacturing and supply, clinical trials, and supply chain operations.
Readers Respond
Contract Pharma readers have responded to all of this content. Here's a look at our numbers for March 2020 compared to March 2019*:
• Unique Users, up 75% (March 2020: 115,633 v. March 2019: 66,270)
• Sessions/Visitors, up 74% (March 2020: 148,628 v. March 2019: 85,377)
• Pageviews, up 57% (March 2020: 472,797 v. March 2019: 236,792)
As we continue to adjust to our 'new normal' lives amid the coronavirus pandemic, Contract Pharma will continue to deliver fresh news and views that will keep you up-to-date and informed.
If you have news and/or article ideas for Contract Pharma email editor Tim Wright at [email protected].
For more information on how to use Contract Pharma's print and digital channels to get your message across to the industry, please contact Lauren Naughton ([email protected]) or Dan Capella ([email protected]).
*Google Analytics March 2020 compared to March 2019